Reception
As our Easter 'break' begins, we hope you are all doing well and are taking care of yourselves. If you need any ideas for the next two weeks, we have added an ideas bank to our Home Plans, and of course, we will be tagging lots of fun ideas on our Reception Pinterest page.
Hi there Reception!
We all wanted to send you lots of love and tell you that we are missing you all.
It's been great fun seeing all the photos of the fun you're having on evidence me, thank you so much for sharing them with us! We've seen rainbows and giants, snails and whales, numbers and writing... all sorts of things! While you are at home, please take care of yourselves and your families, listen to your grown-ups, and eat plenty of Easter chocolate!


Our curriculum
As you know, the learning in Early Years is divided into seven areas. We work with these in mind along with the Characteristics of Effective Learning, in order to provide children with the best possible learning experiences.
During any period where working from home becomes necessary, we will be suggesting ideas for activities that can encourage learning through play and eperience, wherever possible. Examples of activities your child can access will be outlined in this area.
We also encourage you to create opportunities for learning, arising from your child's needs and interests. A favourite toy, book or show can be a goldmine for ideas!
In Literacy, we will be focusing on Julia Donaldson books and suggesting ideas for how to get lots of learning and fun from them.
Lots of number exploration can come through all the lovely things you already have at home, and we'll be able to share some ideas to help with this.
We are especially lucky in Reception, as our observation tool 'Evidence Me', can mean that we can keep in touch and you can generate your own observations for teachers to see!
Mrs Goates Found this lovely idea that has been circulated by the BBC.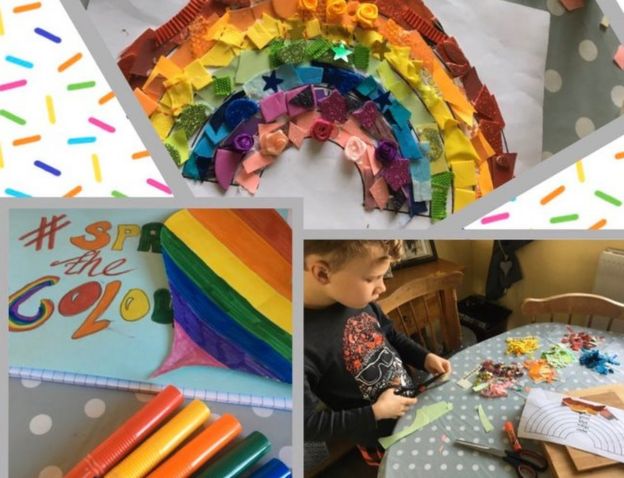 https://www.bbc.co.uk/news/uk-england-51988671